My Experiences
Dr. Sandesh Lamsal
has collaborated with international brands like Google, Diesel and Puma. Similarly, he creates content on different social media platforms as an officially verified creator. He is the first choice of all brands in Nepal as he gets millions of views on social media every day.
Testimonial:
Nepalese internet celebrity, Dr. Sandesh Lamsal, has been verified in all social media platforms including TikTok, Likee, Moj, Josh, Google's Tangi and Chingari app in January 2021. He has become the First Nepalese celebrity to achieve this milestone.

Dr. Sandesh Lamsal is an emerging name in the Nepalese internet world. He is one of the most popular and top Nepalese creators who are representing Nepal in the world of social media.

A simple young man from the village of Dang Nepal, Dr. Sandesh Lamsal ( सन्देश लम्साल ) born on 17th August 1994 is a very talented, handsome and versatile social media influencer and model who is trending on every social media platforms nowadays. He is well known on all the social media platforms including Instagram, Facebook, Google, Amazon and is even verified on most of them. He is known for his creative and inspirational content and achievements in his social and personal life. He is a professional sportsman with 2 Dan Black Belt on World Taekwondo, Kukkiwon, South Korea. He has been featured in many magazines in Nepal, India and Russia. Leading a team of students, he is very actively promoting Nepali culture, tradition and tourism in St. Petersburg, Russia. Russia based fashion, fitness and lifestyle blogger, Sandesh Lamsal has crossed 400K+ Followers on Instagram.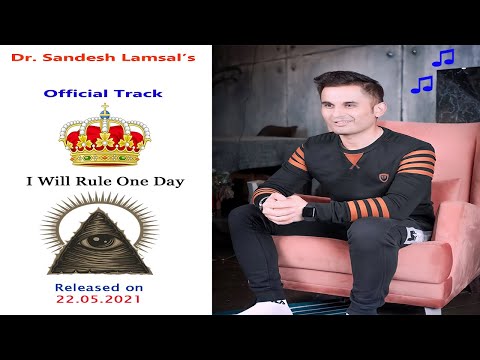 I Will Rule One Day - Official Track - Dr. Sandesh Lamsal | सन्देश लम्साल
For more such videos follow Dr. Sandesh Lamsal | सन्देश लम्साल on his official social media handles below: